Update Social [Distancing] Fabric | 18.04.2020
We want to thank all of you for enthusiasm and encouragement. This project took off faster than we could have imagined: over a hundred people signed up in 4 days.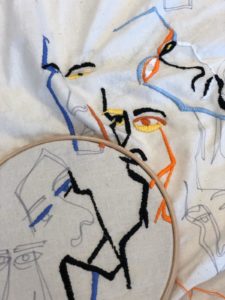 Unfortunately, we've reached our budget for material and mailing costs. Also, we had to allow Karim some rest, since he is drawing everything by hand. So, we'll send out the envelopes to the people who've received the confirmation email, and then we're hitting pause to consider our next steps.
In the meantime, you can still register for the waiting list, and we'll be in touch as soon as possible.
Keep safe, be well, and embroider along. Please share your photos, we're so looking forward to see your work #theworldmakers #karimadduchi #socialdistancingfabric
Love & Thanks
Karim & The World Makers
Read more…  | Lees meer.. about Social [Distancing] Fabric
Social Couture
Social Couture is a program in collaboration with Karim Adduchi Studio. A number of participants will be invited to work with the designer in his next collection.
Community by Design
We use crafts to make connection and build community. Crafts are a means for people to meet, work together and connect. Products are the outcome, but not the goal.
Heritage and identity
Working with a migrants, we study the embroidery & textile crafts from their country of origin. It's a way for migrants to reconnect with their heritage, appreciate the value. We also invite experts and visit musea. Together with a group of Moroccan ladies we revisited Moroccan embroidery techniques, such as Fez-stitch, randa and sfifa. We experimented with new designs. We visited the Tropenmuseum to look at antique examples of Moroccan embroidery. We taught Fez-stitch in a workshop to expat-embroiderers.
Educational programs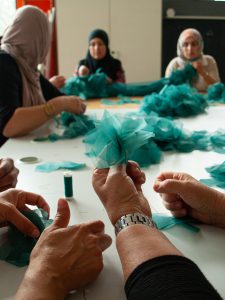 We work together with Truus Lieverdink from Smockwerk who teaches basic sewing skills to migrant women. We also work with studio Karim Adduchi, teaching Haute Couture embroidery and beading to women.