Project Social [Distancing] Fabric
Update | 18.04.2020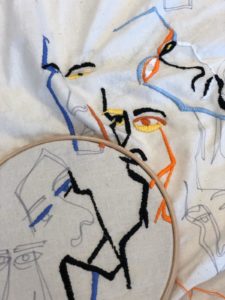 We want to thank all of you for enthusiasm and encouragement. This project took off faster than we could have imagined: over a hundred people signed up in 4 days.
Unfortunately, we've reached our budget for material and mailing costs. Also, we had to allow Karim some rest, since he is drawing everything by hand. So, we'll send out the envelopes to the people who've received the confirmation email, and then we're hitting pause to consider our next steps.
In the meantime, you can still register for the waiting list, and we'll be in touch as soon as possible.
Keep safe, be well, and embroider along. Please share your photos, we're so looking forward to see your work #theworldmakers #karimadduchi #socialdistancingfabric
Love & Thanks
Karim & The World Makers
Read more…  | Lees meer… about the Social Distancing Fabric
If you like what we do, maybe you want to buy us a cookie. Or just donate the cookie money to support our work.
Social [Distancing] Fabric is a not-for-profit initiative. You can support us by donations on The World Makers Foundation, NL07 TRIO 0788 8810 27 | Triodos Bank N.V. | Utrechtseweg 44 | 3704 HD Zeist.