Update | 18.04.2020
We want to thank all of you for enthusiasm and encouragement. This project took off faster than we could have imagined: over 100 people signed up in four days.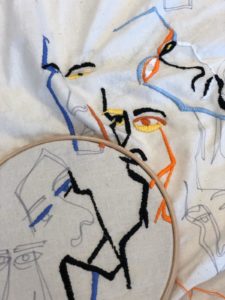 Unfortunately, we've reached our budget for material and mailing costs. Also, we had to allow Karim some rest, since he is drawing everything by hand. So, we'll send out the envelopes to the people who've signed up until 18 April, and then we're hitting pause to consider our next steps.
In the meantime, you can still register for the waiting list, and we'll be in touch as soon as possible.
Keep safe, be well, and embroider along. Please share your photos, we're so looking forward to see your work #theworldmakers #karimadduchi #socialdistancingfabric
Love & Thanks
Karim & The World Makers
Join our collective art work from the comfort of your sofa | 13.04.2020
We invite everybody to join our collective embroidery work, from your own home.
We will send you fabric with a design by artist Karim Adduchi, plus needle and thread.
You can embroider the drawing according to your taste and choice of colors. We use the satin stitch, but you're free to pick something else. You can find more tips in the FAQ below.
When you're finished, please send it back to us. We will stitch all your contributions into one art work, and invite you to come and see it in person. Even in this period of isolation, we will have a shared memory of connection, color and hope, a story we are all part of. 
We will reach out especially to people for home social distancing is especially hard,  such as people at asylum reception centers and the elderly.
Share photos of your progress on social media: #socialdistancingfabric #theworldmakers #karimadduchi 
FAQ 
About the embroidery
It will take about 10-12 hours to finish the embroidery. It will look similar as the picture (left)
Can I use different colors than what you send me?
Yes. If you have thread at home, you're free to use those. You can use different colors or make a monochrome work. It's up to you.
Do I need other material than what you send me?
Yes. You will need an embroidery hoop and a pair of scissors. Embroidery hoops come in different sizes. We recommend one of 15 cm. You can buy them online at about 5 euro.
Can I only join if I'm a wizard in embroidery?
No. Many people are joining: some have never embroidered in their life, others have years of experience. It is not hard to do, even as a complete beginner.
Can you give me some tips on technique?
Think of it as coloring inside the lines, but with thread. We have been using the satin-stitch. You can find great tutorials online. Here are some for inspiration:
how to put the fabric in the embroidery hoop
What are Studio Rules? 
We like to think we're easy-going, but we're not kidding around when it comes to Studio Rules. Ask our visitors who casually put down their coffee near the material, and well, let's say, they lived. Our cardinal rule is: no food, no drinks, no cigarettes near the material. And it's wise to wash your hands before you start embroidering. Because accidents happen, and before you know it, your beautiful embroidery is covered in red wine or nutella. For people with cats, good luck. Everybody knows that cats move in a parallel dimension where rules don't apply.
Incidentally, a tip to keep your cat safe, or your dogs, ducks or kids: make sure there are no needles lying around. Put them away safely when you are finished for the day.
Is there a deadline?
No. Because we can't meet to stitch things together unless the lockdown eases up. But it would be nice if you could send it back as soon as you finished it.
Where do I send it to, when it's finished?
Please send it to: Studio Karim Adduchi | Wiltzanghlaan 60 | 1061 HC Amsterdam